We're writing this Plutustrades review due to a report which was filed with the Better Business Bureau (BBB) on January 8, 2023.
According to the report, a person in North Dakota, USA reported losing $300 through a scam involving the website plutustrades.com, which was initially contacted through a man claiming to be a broker on twitter and subsequently moved to Telegram.
The scammer offered investment opportunities in cryptocurrency but failed to inform the person of the constant fees added when trying to withdraw funds.
The person invested in the 500 plan and went to withdraw $1000, but was charged a 20% fee ($200) and another $500 for a gas fee, for a total of $1200 for a withdrawal of $1000.
---
Want to be kept updated regarding scams?
---
Email provided was tdqh3h5f57uv9ccqe94qvukxkdgwpmgn-1078c98de9424e9e@tidioreply.com
So is Plutustrades really a SCAM or was a scammer just making use of this platform for his own scheme?
Let's check if Plutustrades.com is a legitimate website.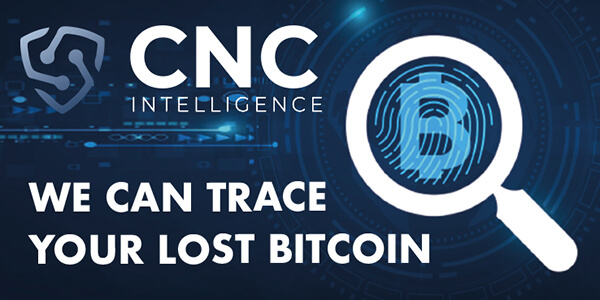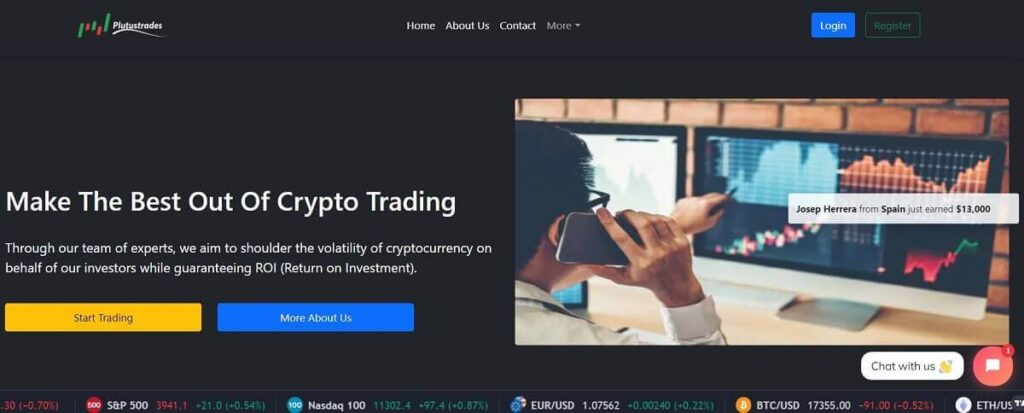 Plutustrades Review: About the company
According to their About us page, Plutus Trades is an investment platform for investors in cryptocurrency that offers services to clients around the world through its technology, support, and diversified approach to cryptocurrency.
It was founded in 2007 and is headquartered in London, with additional offices in Canada, France, Brazil, Singapore, and Germany.
However, according to Whois.com, the domain Plutustrades.com was registered through NameCheap, Inc. on April 10, 2022 for one year. In other words, they have only been around for 6-7 months at the time of writing this.
And in their Contact page we do not find any physical addresses or phone numbers, but only a Telegram account, an email address (support@plutustrades.com) and a contact form. They also have a live chat widget.
The company's CEO Winko James has a background in FOREX trading and has partnered with other experts to develop a reliable way to trade profitably on cryptocurrency.
The only Winko James we could find on LinkedIn however is a web designer from Draper, Utah, who works for Shell.
---
Want to be kept updated regarding scams?
---
The company's mission is to spread the benefits of cryptocurrency as widely as possible, with the goal of granting financial freedom to as many people as it can reach.

Plutustrades claims to use sophisticated technology to secure user's data and fast processing data and transactions. It also has a 2FA security system and diversified approach to risk management and their main objective is to meet the needs of cryptocurrency projects and users, and to provide access to investment products.
Plutustrades Investment Plans
Plutustrades offers four investment plans: Starter Plan, Silver Plan, Gold Plan, Diamond Plan.
Starter Plan requires a minimum deposit of $500, with a maximum deposit of $1,400, and has a duration of 24 hours. It offers a daily return of 60%.
Silver Plan requires a minimum deposit of $1,500, with a maximum deposit of $5,000, and has a duration of 48 hours. It offers a daily return of 75%.
Gold Plan requires a minimum deposit of $5,000, with a maximum deposit of $9,900, and has a duration of 72 hours. It offers a daily return of 95%.
Diamond Plan requires a minimum deposit of $10,000, with an unlimited maximum deposit, and also has a duration of 72 hours. It offers a daily return of 110%.
All plans offer a referral bonus of 30% and 24/7 support.
So theoretically, if a person invests $1,300 with The Starter Plan, they are supposed to receive a return of $780 after 24 hours. If they decide to reinvest for another 24 hours, they will receive another 60% return on $1,980, and so on, however in reality they will charge you with so many fees, that you will actually lose money.
Please be aware that these plans are what is described in the website but it is not necessarily accurate or legit.
High returns on investment with a short term duration is a tell tale sign of a high-risk pyramid scheme.
Always proceed with caution and due diligence before investing in any scheme.
Plutustrades Review: So is Plutustrades legit or a SCAM?
In their FAQs page, we find the following question: "Is the company properly registered?" To this they answer: "Yes we are officially and properly registered with the NEBRASKA AND TEXAS company house our company registration number is 12893904 and registered with the name PLUTUSTRADES LTD."
However, we could not find a registered company by the name PLUTUSTRADES LTD.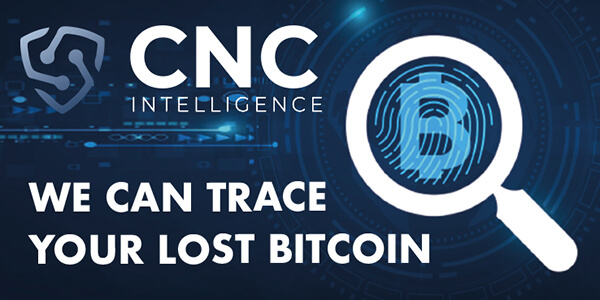 They even have a fake Certificate of Incorporation posted on their homepage, claiming they are certified by the "Registrar of Companies for Nebraska and Texas," and containing the logo of the UK Companies House.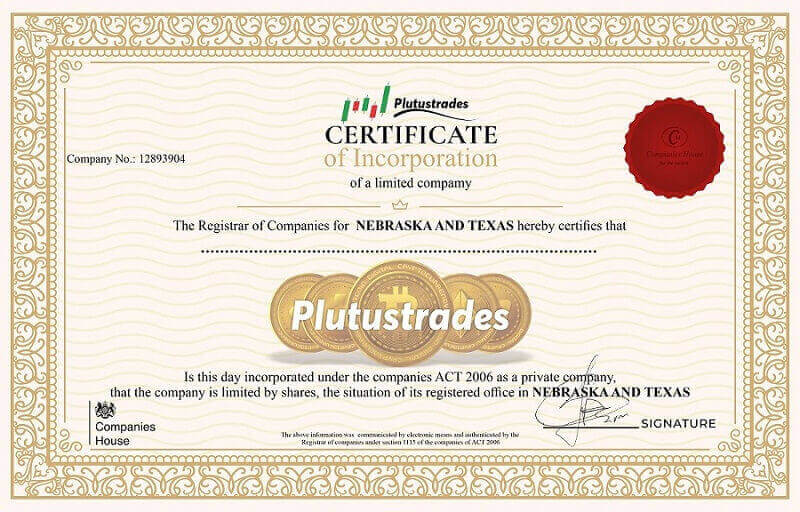 Plutustrades Review Bottom Line
In short, Plutustrades is definitely a scam.
Stay away and do not send the any money.
---
Want to be kept updated regarding scams?
---
If you encounter anyone on social media what advises you to invest with them, you should report them immediately and block them.
If you have lost a significant amount of money to online scams, do not despair! We can help you recover your money.
Comment below if you have any information regarding the Plutustrades scam.